¿Qué es Workable?
Workable proporciona una interfaz flexible e intuitiva para rastrear y administrar candidatos. Los procesos visuales de contratación ofrecen actualizaciones de estado en vivo para cada trabajo, con perfiles enriquecidos de candidatos. Usa la base de datos de candidatos y el CRM de talento para nutrir y avanzar con los prospectivos empleados con el paso del tiempo. Crea un proceso de entrevista estructurado con kits de entrevistas y genere comentarios prácticos con tarjetas de puntuación personalizadas. La comunicación rastreable asegura fluidez en la colaboración con tu equipo. Disponible en versión para equipo de escritorio y móvil.
¿Quién usa Workable?
Workable cuenta con más de 6000 clientes en 88 países de todo el mundo. Al ser adecuado para cualquier negocio en crecimiento, tiene una gran proporción de clientes en los sectores de tecnología, finanzas y hostelería.
¿Dónde se puede implementar Workable?
Basado en la nube
Entorno local
---
Sobre el proveedor
Workable Software
Ubicado en Boston, RU
Fundada en 2012
Asistencia de Workable
Asistencia telefónica
Asistencia 24/7
Chat
Sobre el proveedor
Workable Software
Ubicado en Boston, RU
Fundada en 2012
Asistencia de Workable
Asistencia telefónica
Asistencia 24/7
Chat
Imágenes y vídeos de Workable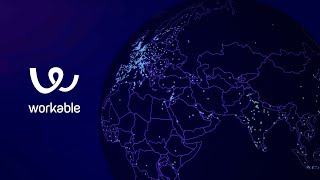 Comparar el precio de Workable con productos similares
Funciones de Workable
API
Adquisición de talento
Almacenamiento de CV
Análisis de CV
Base de datos de empleados
Búsqueda de CV
Búsqueda/filtro de empleo
CRM
Comentarios de 360 grados
Creación de informes y estadísticas
Creación de informes/análisis
Creación de marca personalizable
Cuentas de empleador
Definición y seguimiento de objetivos
Facturación
Gestión de aplicaciones
Gestión de campañas
Gestión de candidatos
Gestión de correo electrónico
Gestión de empleados
Gestión de entrevistas
Gestión de evaluaciones
Gestión de flujos de trabajo
Gestión de indemnizaciones
Gestión de la formación
Gestión de nóminas
Gestión de selección de personal
Gestión de tareas
Gestión de trabajos
Gestión del rendimiento
Herramientas de colaboración
Importación y exportación de datos
Informes personalizables
Integraciones de terceros
Integración de redes sociales
Marketing multicanal
Marketing por correo electrónico
Mensajería SMS
Métricas de rendimiento
Panel de actividades
Perfiles de candidatos
Perfiles de empleados
Plan de carrera individual
Planificación de sucesiones
Portal de autoservicio
Programación de entrevistas
Publicación de ofertas de empleo
Página de ofertas de empleo
Reanudar base de datos
Recursos humanos internos
Seguimiento de candidatos
Selección de personal social
Tablero de ofertas de empleo
Tiempo y asistencia
Courtney
Director of People Operations en EE. UU.
Usuario de Linkedin verificado
Hospital y atención sanitaria, 201-500 empleados
Ha utilizado el software durante: Más de un año
Great System, needs a few tweaks to be perfect
Comentarios: It's been great, the system is good, has a few things it could improve on but a good system.
Puntos a favor:
This system has really been great for us. It is easy to create jobs, post, and make notes throughout the process.
Contras:
Needs a better way for merging candidates from indeed, they get different email addresses so really causes a problem in our system. Need to be able to attach several reqs to one and clear they are together. Indeed integration is wonky, have issues with our jobs being seen but get far better results with a direct link. Ease of seeing things, if notes are so long hard to get to what is needed.
Respuesta de Workable Software
hace 2 años
Thank you for your feedback! It was shared with your Account Manager. We're glad that you've found Workable to be a great system.
Lauren
Operations Manager en EE. UU.
Usuario de Linkedin verificado
Propiedad inmobiliaria, 2-10 empleados
Ha utilizado el software durante: 6-12 meses
Alternativas consideradas:
Solid B+
Comentarios: I'm not sure we get visibility on job boards. We posted a position last Aug using Greenhouse and received 121 applicants in 2 weeks. This year, we posted same job through Workable and got 27 in two weeks. I eventually paid to promote on LinkedIn.
Puntos a favor:
I can't believe the scorecard feature wasn't in the standardized ratings! This is a great feature even though my team doesn't utilize it enough.
Contras:
Better scorecard- I wish a candidate could have one cumulative scorecard per user where hiring team could score them. Instead, there's a scorecard for each step of the funnel for each user. If I forget to ask questions in the screen, I can't just make them empty for the next round, I have to do a whole new repetitive card. You also have to click around a bit to find this and access it.
Tiffany
Talent Acquisition Associate Specialist en EE. UU.
Productos farmacéuticos, 1.001-5.000 empleados
Ha utilizado el software durante: 1-5 meses
Workable is easy for everyone to use!
Comentarios: Workable has been great. definitely one of the most intuitive ATS that i've ever worked with. It's easy to onboard our hiring managers into the system too because everything is right there for them:
clear toolbar, comment, evaluate, and so much more.
Puntos a favor:
The customizability of everything that Workable has makes the experience for the candidate so smooth. We can find out what information we're looking for right in the application. Reviewing, sharing, evaluating candidates have never been easier! The timeline tells you all the communication and actions taken with the candidate and the tabs organize the topic so that you can easily see all evaluations at once. Integration with Outlook/Microsoft 365 has made my workflow so smooth as well. Customer support is also SO helpful whenever I have a question, I know someone will be able to help me with it.
Contras:
There are a few features I wish Workable had. 1. while we are able to have the candidate's first name and last name, there is no placeholder for preferred names (Johnathan Smith's first name will always be Johnathan unless we manually type "John" or something else.) 2. A place where we can send a link to a sourced candidate's application instead of creating a separate google doc with their information or filling out the application on their behalf. ICIMS has a way to send a personalized link and login to candidates to see their application + fill in blanks.
Respuesta de Workable Software
hace 2 meses
Wonderful detail, thanks Tiffany. Will roll the preferred name and custom link ideas to product. You're also welcome to suggest them directly in our customer community: https://community.workable.com/ideas . Appreciate your feedback and support!
Sofia
Director of HR en EE. UU.
Software informático, 201-500 empleados
Ha utilizado el software durante: 1-5 meses
Fuente: SoftwareAdvice
Love and hate relationship with this ATS
Comentarios: Not what I expected, although I really like a lot of the features, many I do not and it's very frustrating the lack of support, and the system is not cheap at all, so you do expect much better customer support. I will most likely look for a new system, for next year as it is very unlikely we will be renovating the contract next year.
Puntos a favor:
I like that I am able to review candidates from my phone or desktop, that I am able to leave comments and feedback and rate candidates right from the system, and that it has lots of bulk features like emailing in bulk and communicating with candidates via email and text. I also like it that we can post to different countries.
Contras:
The main thing I do not like about this system is that its integration features do not always work, I just found out that although Checkr, a background check software that conducts background checks all over the world is able to do this, it does not integrate fully with Workable as they claim it does, so you can only send a background check request through Workable for US candidates but not for international candidates. There are many things that are not customizable and are easily accommodated with other systems I have used in the past, like the requisition fields. You also cannot store your in-house job description templates in Workable, you can only either cut and paste or use them from Workable job descriptions. The number one thing, I am very disappointed with is their customer support, it is terrible, they take days to answer, although their salespersons claimed that customer support is 24/7, this is not true and it is false information. You do not have 24/7 customer support over the phone, email, or live chat. Phone line, nobody answers EVER, email expect no response or at least a day or 2 wait. Chat is the only way you may have faster service. But their agents are not very helpful nor knowledgeable of the process. I used Paylocity in the past which is not just an ATS but HRIS all in one, and their customer support is exceptional, you always get an answer and anyone that you reach out to is very knowledgeable of the product, Workable can learn a lot from it.
Jessica
Game Programmer en EE. UU.
Usuario de Linkedin verificado
Software informático, 201-500 empleados
Ha utilizado el software durante: Más de dos años
Recruiting has never been easier and more efficient!
Comentarios: Workable was able to fix a few issues. Excellent work, in my opinion. Online Video Interview and Online Assessment Test services have already been incorporated, and this was undoubtedly one of the tool's most significant enhancements. As a result, when you purchase the ATS, you get both services for free.
Puntos a favor:
One of the most useful features of Workable is the ability to take notes at any point along the way. You may use Workable to send and receive candidate emails through the system, including a notifications page that functions something like a telephone. It has several AI integrations.
Contras:
As Workable is still a relatively young ATS that requires updates and a little of effort, reporting and other more complicated functionalities are a bit limited. Workable isn't the best choice if you want a tool that can do whatever you want it to.